Welcome to Caerphilly Ladies' Choir
Croeso i wefan Côr Menywod Caerffili
Facebook:  Caerphillyladieschoir
(click on / cliciwch ar caerphillyladieschoir   –  tudalen Updates page)
We are a choir of more than forty members, practising between 7.30pm and 9.15pm every Tuesday (during school term time) at
Ysgol Y Castell, Crescent Road, Caerphilly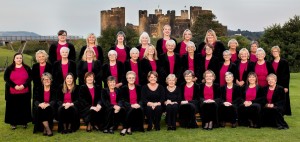 THE HEALTH BENEFITS OF SINGING! 
   Choir singing 'boosts your mental health'
Well or unwell, singing is an important part of life and it brings joy and better health to people of all ages.
Singing on your own is good, but singing with others can be even better! Singing in a choir benefits you by giving you increased self-confidence, empowerment, well-being and interpersonal skills. It lowers feelings of isolation, depression and anxiety, it enriches your life. Singing is like an infusion of the perfect tranquiliser – it soothes your nerves and elevates your spirits.
    SO GO ON, JOIN A CHOIR,
GIVE IT A TRY!
NEWS / NEWYDDION
We are delighted to announce that we have once again been invited to take part in the Festival of Brass and Voices organised by Cancer Research UK to be staged in the Royal Albert Hall on Saturday, 3rd November,  2018.
REPORTS AND PRESS RELEASES / ADRODDIADAU A DATGANIADAU I'R WASG
Bailey Street Uniting Church 12.05.2017
On Friday, May 12th Caerphilly Ladies Choir ventured up the Heads of the Valleys to Brynmawr for the very first time. We went to raise funds for Bailey Street Uniting Church. The concert was arranged by our Accompanist Beverley Baker as she is the Organist at this church. The audience were very welcoming and appreciative and the acoustics in the church were excellent.
Everyone in the choir and the audience thoroughly enjoyed the concert and we thought the choir sang really well, although of course we may be biased. We introduced two new pieces in our programme and we had two new choristers singing in the choir.
There were two artistes joining us –  Julia  Watkins (an old school friend of Beverley)  a violinist and Gerald Phillips a local baritone.  Julia has been a professional violinist for many years and Gerald sings with Beaufort Male Voice Choir, both were excellent.  Praise must go to Bev, she not only organised the concert but she accompanied  the choir and the artistes throughout the evening.
We thank Jean and Ellie for conducting the choir and Marjorie for compèring the event.
We hope the concert raised quite an amount of money for Bailey Street Uniting Church.
M.E.GRAY  14.05. 2017
CAERPHILLY LADIES CHOIR CONCERT CELEBRATING 50 YEARS OF SINGING JUNE 18TH 2016 Ever since we started planning our special events to mark our 50 years of singing, the one event that stood out was a Gala Concert. So, with a lot of pre-planning June 18th arrived. Ticket sales were good, superb golden posters and programmes were all printed and much publicity was out in the press. The choristers were adorned with gold corsages and many past members had been invited.
What a wonderful concert it was!  The choir sounded better than ever! We sang a wide variety of music – from religious music, songs from musicals, Welsh hymns, jazzy music and our medleys. All received tremendous applause. Jean,our M.D.,Ellie our assistant M.D. and Beverley our accompanist all performed brilliantly and I know they were delighted with the choristers' performance. Even our President, Margaret Webb (our former conductor) said it was our best performance ever!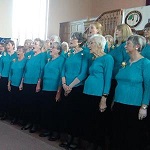 The concert went so smoothly, compered so eloquently by our Vice President Wayne David M.P. Our guest artistes Cantare, a vocal duo, and their accompanist Ryan Wood were outstanding. Soprano Angharad Morgan is a professional opera singer and her husband David Fortey is a soloist and a tenor in "Only Men Aloud". It was quite mesmerising to watch and listen to them.

After our finale our chairlady Sian Sheppard thanked everyone for attending this special concert and she gave presentations to all the individuals who had taken part. Marjorie Gray, our choir Publicity Officer was presented with her fifty years service badge. The choir (originally known as The Margaret Roach Singers) was formed in January 1966 and Marjorie joined the choir in May 1966.
At the end of the concert, before the Welsh National Anthem was sung, former choristers were invited to join us on the stage. We were surprised to see so many of them there.
Everyone at the concert was invited to join us for refreshments in the vestry. It was so good to chat to visitors and old friends. It was a great end to an excellent evening of celebrating fifty years of singing by Caerphilly Ladies Choir.
Marjorie Gray. June 2016
Choir Tour to Cornwall  May 2016  During the Spring of this year we were all anticipating our May Tour to Cornwall. The annual tours have been taken every year since Marjorie Gray organised the first tour in 1994 – which was also to Cornwall.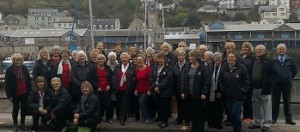 We set off earlier than usual so that we would not have to rush for our evening meal. With our coach be-decked with Welsh flags and Choir signs we set off for England, although Cornwall likes to think it is a Celtic country and not part of England. Although traffic was heavy, as it usually is Bank Holiday Friday, we did not take too long to get to our hotel in West Looe. The hotel has been extensively modernised, and is right on the harbour side, with superb views. Dinner was followed by singing and dancing.
The next morning we spent a few hours wandering around pretty Polperro. We strolled around the village and some took a boat ride around the coast towards Fowey. After the usual ice-creams, coffees and Cornish pasties we returned for a rest before our early dinner.
After dinner, all dressed in our concert uniforms, we set off for the highlight of our week-end – a concert with Polperro  Fishermen's Choir.
The venue was the Life Boat Station in East Looe. It was low tide so the ferry was not operating, so most of us walked there, and some were taken by car. As a choir we have sung in many unusual places – such as inside the Channel tunnel, in an aeroplane or on a ferry, so a lifeboat station was one more to add to our list! The lifeboats had been taken outside to give us a large seating area, although the audience must have felt they were sliding backwards, as the floor was sloping. One of the main doors was left open so that people passing by could see the concert. It did prove to make the station very chilly. The other hilarious moment was just as we were going to start a song – a seagull flew in through the open door and began to give us all a solo of squawking !
The whole concert, arranged by Marion, went very well. The fishermen sang quite a lot of sea shanties and we obviously sang some Welsh songs. Their compere and ours  (Marjorie) introduced the items and cracked some jokes. We all ended up singing the Welsh National Anthem and then we joined them in a type of Cornish Historical anthem – " And is Trelawney Dead?". After presentations and refreshments we returned to our hotel accompanied by a group of the Polperro Fishermen's Choir – The Polperro Wreckers. We took over the bar area of our hotel and members of both choirs sang and sang, accompanied by accordion and guitar. Eventually, with sore throats we went to bed.
On the Sunday morning, after breakfast we set off for a visit to the Eden Project near St.Austell. Many of the choristers had never been there before. The weather unfortunately was rather showery but it was an enjoyable and interesting visit.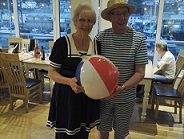 The hilarious time was at our evening meal when nearly all the choristers dressed up for dinner in outfits suitable for the theme of "Oh I do like to be beside the seaside." With Val Baynton as D.J. we all danced and sang the night away! What a scene! We had a selection of Hawaiian dancers, mermaids, Admiral Audrey, old fashioned Bathing belles, sailors  pirates etc.
During this time we celebrated Jayne Edwards' hen party. A few weeks after this tour, Jayne was getting married to Wayne David. our local M.P. and choir Vice-President.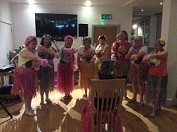 We returned home the next day after a very enjoyable tour. Thanks go to  Jan and Ceri who arranged it.
Where will 2017 take us?
Marjorie Gray. May 2016
CHOIR CONCERT AT RIPPLE.SATURDAY 16.04.2016  
We had all been looking forward to our concert in Ripple,just outside Tewkesbury, as we had not been there before, and it was the home village of our choir secretary, Jenny Bennett.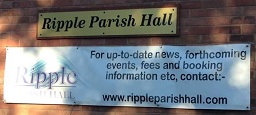 We planned to set off quite early, but the bus was a little late arriving at our pick-up spot. Our first disappointment was that Jean our M.D. could not come as her husband David had been rushed into hospital. So Ellie had to take full command for a full concert for the first time. Then when we were just passing through Monmouth our driver noticed the temperature of the engine getting very high. After some investigation, he discovered there was a split in the water hose and we were leaking water. Unable to get a bus to us in time we crawled to the Service Station at Ross-on-Wye where he filled up with 30 litres of water. Jenny was busy letting her father know what was happening and eventually we arrived half an hour late.
But what a welcome we received from the waiting audience! With Marjorie Gray compering, reciting humorous poems and telling a few jokes and the choir singing so well, the concert was proving to be very popular with the audience. Our small group sang two pieces beautifully and Wendy Williams sang a lovely folk song – accompanying herself on her guitar. Conducted so well by Ellie (her first full concert conducting us) the choir were inspired and gave a tremendous performance throughout.The evening ended with performers receiving bouquets, choristers winning prizes in the raffle and everyone indulging in a sumptuous buffet provided for us..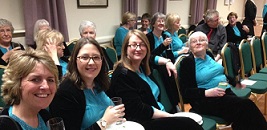 We all commented that this concert had been one of our best ever. The audience were so impressed! We were asked by numerous members of the audience to return in the future and give concerts for various causes. In fact before I managed to report on this concert, a future concert has already been arranged in the Ripple area.
Marjorie Gray, Publicity Officer  May 2016
CONTINUING  TO  CELEBRATE  OUR  50TH ANNIVERSARY  Our February celebration was our visit to sing at the Houses of Parliament organised by our vice-President, Wayne David, M.P. for Caerphilly. We had all  looked forward to this prestigious event for quite a while. The arrangements were all made by Sue Edwards. We set off fairly early and arrived outside the Houses of Parliament by late lunch time. Wayne met us and showed us where we had to meet later in the day, and we all set off in groups to see the sights nearby and have a meal. Lots of photos were taken, and famous buildings were visited. Some of the choristers had never really visited this area of central London before and they were amazed by the huge number of visitors around them. Luckily the weather was great !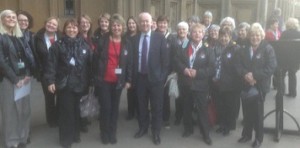 We then all met back up at the Houses of Parliament. While we were waiting for our guided tour we sang to the security guards and the people around us. Lots of the photos taken are on our website and facebook page. We were divided into groups, one led by  Wayne, one by his assistant Simon and the third by Jayne Edwards' daughter Rhiannon,who is now a new assistant to Wayne. One of the first places we were shown was the entrance to the Chapel where Jayne (one of our Sopranos) will marry Wayne on May 21st.
After our tour we entered the Speaker's House where we going to sing. What  magnificent surroundings! It had luxurious carpets, furnishings and famous paintings. It was a special honour to visit the Speaker's House as it is not open to the general public, only by personal invitation. After changing our uniform and having refreshments we then went into the large drawing room to entertain guests, who were invited by Wayne David. There were so many recognisable people at this reception ; faces well known to us because they have appeared on T.V. so often. These included  Ann Clwyd M.P., Nia Griffith, Shadow Secretary of State for Wales, Baroness Golding, the daughter of Ness Edwards the former M.P. for Caerphilly,The High Sheriff of Gwent, Andrew Tuggey and the Lord Lieutenant   of Gwent Sir Simon Boyle.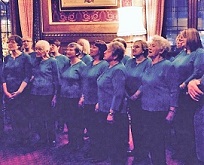 We sang a wide range of songs to them, including Welsh and English pieces. All were very well received. One unusual event was that the voting bell went during our recital. The House of Commons was still in session, so the MP.s present had to leave to vote. They returned a short while later. After the recital finished we had a very pleasant time mixing with the invited guests and enjoying the buffet.
Eventually  we left London to return to Caerphilly at midnight, with such wonderful memories of a marvellous experience.
Marjorie Gray. March 2016
Press release January 2016
CAERPHILLY LADIES CHOIR CELEBRATE A GOLDEN YEAR
2016 is a momentous year for the members of Caerphilly Ladies Choir. The choir first came into being in January 1966, and was known for thirty years as the Margaret Roach Singers. In 1996, many years after Margaret Roach's death, the choristers decided to change the choir's title to Caerphilly Ladies Choir, emphasising its connection with the town and the newly formed County Borough of Caerphilly.
The choir is based at Ysgol y Castell, Crescent Road, Caerphilly, practising once a week on a Tuesday evening with Jean Davies as the choir's Director of Music and Beverley Baker as choir accompanist. The deputy M.D./Accompanist is Ellie Baker. The choristers share a love of singing, raising funds for worth-while causes and bringing enjoyment to many. They also enjoy good social times together.  Every year the ladies enjoy a May tour, and they have sung in a variety of venues in Wales, England and Scotland, and abroad in France, Belgium, Germany and Spain. During these tours the choir always give a joint concert with a local choir. Caerphilly Ladies Choir has developed a wide repertoire, equally at home singing Welsh melodies, spirituals, opera choruses and sacred music as performing songs from musicals or popular songs. The choir recently took part in a magnificent concert in The Royal Albert Hall, London , joining with fifty four other choirs to raise funds for Cancer Research UK. Only one other choir came from Wales.
So during this Golden Anniversary Year, the choir have many special events planned.  Earlier this month the choristers enjoyed a celebration dinner. In February the choir are looking forward to giving a concert in the Houses of Parliament. This visit has been arranged by one of the choir's Vice-Presidents, Wayne  David, M.P. for Caerphilly. In March the choir will be giving local concerts and in April they have a concert in the Forest of Dean. At the end of April the choir's annual tour is to Cornwall. There the choir will sing alongside Polperro Fishermen's Choir.
On June 18th.the choir will be presenting "FIFTY YEARS OF SONG" at a concert in Wesley Methodist church, featuring the duo Cantare. The Summer  session will end with a special Celebration Dinner in July. However, we would like past choristers from The Margaret Roach Singers or Caerphilly Ladies Choir to join with us in celebrating our 50th.birthday. There are many ways to contact us. You can phone the Publicity Officer on 029 20883722, or the Concert Secretary on 029 20 885612, or email  maigray@btinternet.com .Also you can log on to our website www.caerphillyladieschoir.co.uk  or our facebook page. We would really love to see former choristers at some of our special events. We also welcome requests to give concerts or sing at special events. So please get in touch!
Marjorie Gray,  Publicity Officer, Caerphilly Ladies Choir
CAERPHILLY LADIES CHOIR    November 2015
The year 2015 was looked on with much anticipation by the members of  Caerphilly Ladies Choir. They had a busy year to look forward to, culminating in their visit to the Royal Albert Hall, London. Throughout the year the choir has given many concerts for various charities and good causes, as well as learning a lot of music for the November concert in London, the Festival of Brass and Voices in aid of Cancer Research U.K.. The choristers knew that the learning would be well worth is, as they had taken part in the previous event in 2012. Then Caerphilly Ladies Choir was the only choir representing Wales. This time there was one other Welsh choir – from Builth Wells, joining them in flying the flag for Wales. Fifty three choirs took part (about 1,500 voices), accompanied by Cory Band, Grimethorpe Colliery Band and a group of young Scottish fiddlers. The concert was a fantastic event. so memorable! All the ladies and their supporters thoroughly enjoyed the hectic but wonderful week-end.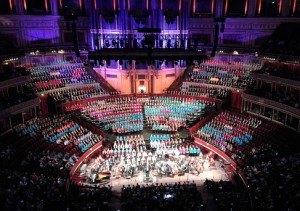 Soon after the choristers returned back to Caerphilly they were busy fund- raising at their Christmas Fair last Saturday. Between now and Christmas the choir has a concert in Newport on November 30th.,one in  Abertridwr YMCA on December 5th.and Carol singing on Dec. 15th.
In January 2016 the choir will celebrate fifty years since its formation. For thirty years the choir was known as the Margaret Roach Singers, changing its name in Jan. 1996 to Caerphilly Ladies choir. Many special events are planned, as well as participating in the World Choir in Cardiff in May. However supporting various charities is still very important to the choristers. The choir have a great social life as well as the joy of performing in various parts of UK. and Europe. The choir is always glad to see new members join, and welcome requests for concerts. Information is easily found on www.caerphillyladieschoir.co.uk  or on facebook or by ringing our concert Secretary on 029 20885612  or our Publicity Officer on  029 20883722 or our General Secretary on 029 20850505
Marjorie Gray. Nov. 2015
CHOIR CONCERTS MAY – JUNE  2015  During May and June the choir has given two concerts in Cardiff, both in aid of Church funds. The first concert was held Rumney Baptist Church, Cardiff on May 8th. It was held to raise funds towards a new church organ. There was quite a large audience and we were introduced by the Minister of the Church. Marjorie Gray compered the concert and most pieces were conducted by Jean Davies and others by our Deputy conductor Ellie Baker. Beverley accompanied throughout the concert including our soprano's solos.
Marion Watts, our Concert Secretary, had arranged for three young Caerphilly musicians to take part. It was a very good experience for the three soloists, and they enjoyed the event.  Soprano, Abigail Price was a delightful singer and she was only fifteen. The seventeen year old violinist was Shannon Shenton, who said her passion was music. The third young soloist was seventeen year old Adam Wilson. What a versatile musician he was! In the first half he played the French horn beautifully, but he amazed us when he played a solo by a Chinese composer on the Church's Grand piano. He was superb. The choir sang very well and we were greatly appreciated by the audience.
Our second concert was held in St. Andrew's Church in Birchgrove, Cardiff on June 13th. It had been organised by Linda Jones, one of our contralto choristers. She is a member of this Methodist Church. This concert too, was to raise funds for church repairs. We had no outside guests but used members of our choir to do various items. Marjorie compered the concert, Jean and Ellie conducted various choir songs and Beverley accompanied throughout. There was a good audience  and the people there were very appreciative. The choir sang twelve pieces including two medleys. Ellie conducted our new medley from "Les Miserables". Marjorie said three humorous poems and a few jokes.Our small group of singers (about seven choristers ), trained by Bev.and Ellie Baker sang four songs. Altogether we presented  a variety of entertainment that the audience enjoyed.
But now for the next few weeks the choir has to concentrate on new music that we have to learn for our participation in the Festival of Music and Brass in the Royal Albert Hall, London in November, in aid of Cancer Research UK.The Musical Director of the R.A.H. Festival. William Relton is coming very soon to our choir practice to put us through our paces!
M.E.Gray June 21st.2015
Wales Millennium Centre, May 25 2014
CHOIR TOUR TO HULL    MAY 2014  This year we decided to go "Up North" to East Yorkshire to stay at the Royal (Mercure) Hotel in Hull. Sally Roper who was formerly our Assistant Director of Music, our Assistant Accompanist and a chorister decided to return back home to the Hull area in 2010 when her mother was quite ill. Since she returned to Yorkshire she has taken over as the Musical Director of a small mixed choir. The membership of this choir has greatly increased and Sally wanted us to visit her homeland and sing with her choir. So, with Sally arranging the joint concert etc. we decide d to travel to Hull. Just a few months ago Sally was quite ill and needed a heart operation, but she was determined that the show would go on!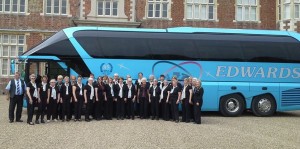 We left Caerphilly earlier than usual on Friday, May 2nd.as the journey was about six hours. Hull was much more impressive than I thought, as it has had a lot of new buildings and improvements since 2000. In fact Hull beat Swansea to be the UK City of Culture for 2017. Hull was always known for its fishing industry, its port and being the home of William Wilberforce the MP who fought to abolish the Slave trade. It was also the home town of the poet Philip Larkin. The hotel was right next to the Railway Station, and we found the hotel  service, the décor and the food all excellent.
On Saturday morning we visited the nearby market town of Beverley. It was a very busy town, but we had time to go around the shops, the market the cafes and see the Minster. Later, after an early dinner we made a short walk to the nearby new Albermarle Music Centre where the concert was to take place. The venue was not too big and the audience filled the "boat – shaped" hall. Besides our choir there was Sally's mixed voice choir called  Roos & South Holderness Singers and the City of Hull group of young  percussionists. For some pieces the two choirs sang together. It was a change for us to have a mixed choir taking part with us. The young percussionists were very well trained, and obviously enjoyed themselves. The whole concert went very well.
On Sunday we went to a large country mansion called Burton Constable Hall. There we met up with Sally and some of her choristers. They kindly provided us with a lovely buffet lunch. We toured the house first, and the we gave a short concert in the Stable block . After dinner that evening we had a Disco when most of the choristers and their friends dressed up in a variety of fancy dress. Some members of Sally's choir came to join us, which was a very nice gesture.
Sadly the weekend went by very quickly and Monday morning saw us boarding the Edwards coach for our return journey. Ceri and Jan made sure we had quizzes and raffles on our journey to stop us being bored. Another successful and enjoyable tour was over.
Marjorie Gray.    May 2014
SENNYBRIDGE  CONCERT SATURDAY, 9TH. NOVEMBER  2013  The Autumn season was quite a busy time for us. During that term we gave nine preformances.Most of them were in the Caerphilly area, but the outstanding concert for us was the one at Sennybridge in Powys.
It was the first time we had ever sung in that county, and for a lot of our choristers it was a first time in Sennybridge. The whole concert had a uniquely different ethos. There was a great community spirit amongst the big audience that evening, as we were there to raise funds for the village Community hall. There were lots of people in the audience from farming backgrounds, and most of them were Welsh speakers. Two of these were the parents of Rhydian Roberts, the very successful Welsh tenor.
The evening was a combination of a fund-raising concert, plus two huge raffles followed by a short but poignant Remembrance Eve Service, led by the local vicar.
Besides our choir there were two artistes. They were the tremendous young Welsh tenor Tristan Llyr Griffiths and a folk / ballad singer from Trecastell named Josie Howells. Tristan is definitely a star in the making. He has already achieved so much in the last few years.He has won the Blue Ribbon at the National Eisteddfod, the Morriston Orpheus Choir's Award and the The Bryn Terfel Scholarship. Currently a post graduate at the R.W.College of Music & Drama, Cardiff studying Opera, he has appeared on TV quite a few times, mostly with Bryn Terfel. Josie had recently won a recording contract after winning the "Talent of the Valleys" competition. Josie sang some modern ballads and some folk songs.
Marjorie Gray compered the concert, and gave a couple of poems, one humorous and the other "In Flanders' Field (as there was a Remembrance Service being held.) .Beverley's group sang two pieces, "Hallelujah" and "Flying Free" The audience were very appreciative of everyone who took part.
The evening's events lasted a long time, because after the concert there were such a lot of raffle prizes to be won and we had a very moving  Remembrance Service, which included the Last Post being played and a wreath being put at the War memorial display in the Community hall. Over £1,200 was raised that evening for the much-loved and well used hall..
Before we left for our coach journey home we indulged in some wonderful country cooking. Some of the best refreshments we have ever had!
It was an excellent evening out.
Listen to us at a recent concert singing 'The Lord is my shepherd' – the theme tune from 'The Vicar of Dibley'. http://youtu.be/9zwIhqMuc5k
In May 2011 Caerphilly Ladies Choir was on a concert tour at Lossiemouth, Morayshire, Scotland. During the interval of our main concert we were invited to take part in the prestigious
concert organised by Cancer Research UK to be held at the Royal Albert Hall London on November 3rd. 2012. This concert is held every three years. We were very excited at the
prospect and we knew it would involve eighteen months of hard work. We had to learn pieces for female voices and some for mixed voices. No copies were to be used so we had a lot of words and music to learn.
Mini Tour to Devon May 2012
Caerphilly Ladies Choir was invited to sing again at the Palace Ave. Methodist Church, Paignton, Devon. As we had already planned an expensive concert trip to London in November 2012, we decided to go on a short two-night tour to Devon in May 2012. We had no extra artistes at the concert, just the choir plus Beverley's group of singers and Marjorie Gray, who compered the
event and gave us some humorous poems. The congregation was as responsive and friendly as on our previous visit, and we all thoroughly enjoyed the evening.
Our concert tour to Scotland May /June 2011  For nineteen years the choir has enjoyed an Annual mini singing-tour .The tour always  incorporated sightseeing, a social get-together and most importantly one or two concerts,one of which is usually singing with a local male choir. We have travelled to many places, to Germany, France, Belgium, Spain and many parts of England and Wales. Sometimes we have gone to places where we have a friend or relation to help with the concerts. This was the case this Spring. Sylvia Martin, a very keen second soprano moved to Lossiemouth in Morayshire a few years ago and persuaded us to go there this year. She worked so hard -inspecting the hotel we had booked, organising  a concert, a church performance, various tours and getting a great deal of publicity for us
So, on May 28th .for our twentieth tour we flew from Bristol up to Inverness, where David Urquart Travel had arranged all our transport for our stay which was based at the Stotfield Hotel in Lossiemouth. We had a wonderful time!
Through Sylvia's connections we sang in beautiful St. Aiden's Church at R.A.F. Lossiemouth, and enjoyed an excellent Ceilidh at the hotel with the superb Fochaber Fiddlers. At the concert in the Town hall we shared the stage with local Moray Male Voice Gospel Choir. Besides our full choir singing, we also had our Welsh group singing (in National Costume), Bev's group singing and our compere Marjorie Gray reciting poems. The Town Hall was overflowing and the atmosphere was wonderful. All the proceeds went to Help the Heroes, and that evening we raised over £ 3,400 Sylvia had worked SO hard.
A final surprise came from two men in the audience. They were organisers of a huge Festival of Brass and Voices held every three years at the Royal Albert Hall, London. They were so impressed with our performance they invited us to take part in the event planned for November 2012. This we have agreed to do, as this is a great honour. We are the first Welsh Ladies Choir to be invited. All the proceeds will be for Cancer Research UK.
Our final full day in Scotland was touring a woollen mill and cruising down Loch Ness. Up to then the weather had been quite good, but as we boarded the boat the clouds opened. Some stalwarts stayed on deck, singing songs about the rain, and getting absolutely soaked, just hoping to see Nessie. But the rain was even too heavy for him to surface! As we disembarked at Urquart Castle the sun began to shine.
On our last day, before we flew back home, we visited the Museum and Battlefields of Culloden moor.
We all had an excellent holiday with our Celtic Cousins, and thought it was one of our best tours we have had.
Marjorie Gray   2011
CHOIR CONCERT T0 AYLEBURTON  OCTOBER 15TH. 2011  On October 15th. we ventured to pastures new, when we travelled to Ayleburton in the Forest of Dean. This was arranged by Marion, our Stage Manager, who has family contacts there. It was a pity we hadn't arrived earlier when there was more daylight, as the village seemed a very pretty place.
The concert was to raise funds for the church, which was quite old. It was quite a novelty to walk through the churchyard to the church entrance up a path illuminated by numerous candles in glass jars. To go to the outside toilet by torchlight was even more of an experience!
The acoustics in the church were superb and the concert went very well. We had an excellent soprano singing with us for the very first time. She was Eleanor Stowe who is a student at the Royal Welsh College of Music and Drama in Cardiff. Eleanor was very nervous at first but she sang beautifully  with so much expression. We were delighted with her performance. Eleanor is singing with us again on March 23rd when we participate in a Charity Concert for the British Heart Foundation Cymru.
We really enjoyed the evening and I am sure the congregation did too.
Marjorie Gray  Publicity Officer  2011
CHOIR TOUR TO DEVON APRIL 30TH. TO MAY3RD 2010  A short tour over the May Day week-end is a tradition with the choir and every year we choose a different place in the U.K. Occasionally we have had an extended tour and gone to an area  of Europe. This year we visited the Torbay area of Devon, basing ourselves in Torquay -known as the English Riviera. Because we were travelling on a busy Bank Holiday week-end we were caught up with very slow moving traffic. The journey normally takes about two hours. It took us four! Eventually we arrived at  the Headlands Hotel, formerly known as the Overmead. The food , the entertainment and the ambience of the hotel were all excellent. Unfortunately the sun did not appear very much, but we all enjoyed the scenery and visiting various tourist spots in South Devon.
On Saturday, May 1st. we gave a concert at Palace Road Methodist Church in Paignton. Although we did not have a male choir to join us at the concert, it was  very successful, and the audience was most appreciative. We only had 31 choristers but our supporters said we sang better than ever! Jean Davies was our Director of Music and Beverley Baker accompanied the choir and the Quintet. Marjorie Gray compered the concert. She also did four humorous poems and a couple of funny stories.  Four songs were sung by our group of five – Judith, Kathryn B., Sue. Ruth and Linda. Quite a few hundred pounds were raised and we donated it all to the Church funds
After a tour around Dartmouth on Sunday morning the choir and supporters travelled on to Buckfast Abbey .This abbey complex is the home of Benedictine Monks, and is famous for Buckfast Tonic wine, Buckfast Honey and beautiful lavender gardens. It is also used as a retreat. The Abbey itself is beautiful, with a high vaulted roof, and the small church at the rear of the Abbey has a magnificent stained glass window. The stained glass was made at Buckfast by the monks.
We then gave a short recital of six sacred songs in the Abbey. The acoustics in the Abbey were magnificent, with our singing echoing around the high arched roof. Lots of visitors came in to hear us, and for most of us, singing at Buckfast Abbey will be a memory to cherish.
Marion expertly organised the tour, and we thought it was one of the most successful we have had for a long time!
[More]
The Choir in Action!!