The early days … / Y dyddiau cynnar …
Caerphilly Ladies' Choir was formerly known as The Margaret Roach Singers. Margaret Roach began the choir in 1966 with Jean Davies as Accompanist. Over the years the number of choristers rose from twenty to forty. Margaret was the Musical Director until her death in 1976, after which Margaret Webb became the Musical Director.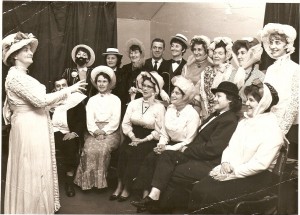 In 1996 the choir celebrated thirty years of making music, giving enjoyment to others and raising thousands of pounds for worthwhile causes. At this thirtieth anniversary the choir changed its name to Caerphilly Ladies' Choir, emphasising its connection with the town and county of Caerphilly, well known for its historic castle with leaning tower, and its tasty cheese.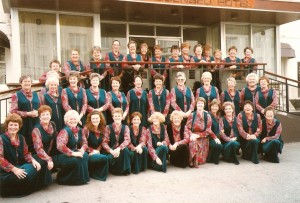 The choir today …
In January 2001 Margaret Webb, who had by now been with the choir for almost thirty years, retired. Under her leadership the choir had progressed in technique, increased in number, greatly widened its repertoire and built up an excellent reputation.
Jean Davies, who had been the Accompanist, became the Musical Director in July 2002, and Beverley Baker, who was one of the choristers, became the Accompanist.